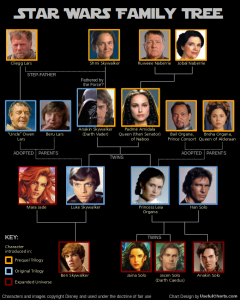 Two nights ago, we were among the first to watch Star Wars: The Force Awakens, during the fundraising premiere of Chris's batch. It was an entertaining movie and you'll be smitten by it even if you're not a Star Wars fan like me.
For two days, our family discussions swirled about the Star Wars family tree. Who's the son of who, who is the daughter of who? "There must be a twist somewhere," my husband surmised because the family tree we were consulting looked like it had its descendants mixed up. Whatever it is, they're one big messed-up family. (I'll stop here lest I let out some spoilers.)
Then there's another genealogy that was also the talk of the town yesterday, this time during the simbang gabi. Yesterday's Gospel was the genealogy of Jesus — which traced His lineage all the way back to Abraham. It was a messed-up family too. There were cheaters and liars in that list, as well as prostitutes, adulterers and murderers. And from them would spring forth the Son of God, the Savior of the world?
What a strange way to save the world — for an almighty, omnipotent God to send His only Begotten Son to be born among us, in the mess of our sinful families and be one of us. God could have said, "Let there be salvation," in the same way He created the heavens and the earth and the rest of creation, and I'm sure it would have worked fine too. But, no, God wanted to display His love to us, in a way we can hear, see, understand and feel — and forever know: Jesus is Emmanuel, God who is with us, not a cosmic God who lives in another realm far, far away.
That's the message of Christmas that I pray I never overlook in the revelry and hype of our celebrations.